Apron is definitely a fashion accessory !
The apron is a fashion accesory? Yes, you have well read, the apron is trendy! Maybe you start reading this article with some apprehension. Associating apron & trendy looks a little ridiculous. We are not going to lie you, the apron has a long history...

Formerly, the apron was worn as everyday clothing by women. At home or in the fields. In history, the apron also marks a certain hierarchy. Formerly, only the maidservants wore one. The nobility, on the other hand, wore only fine dresses and fine costumes. Until the 1960s, many advertisements featured a woman wearing an apron in the kitchen. A pretty frimousse, a beautiful apron and above all, the look of good mug !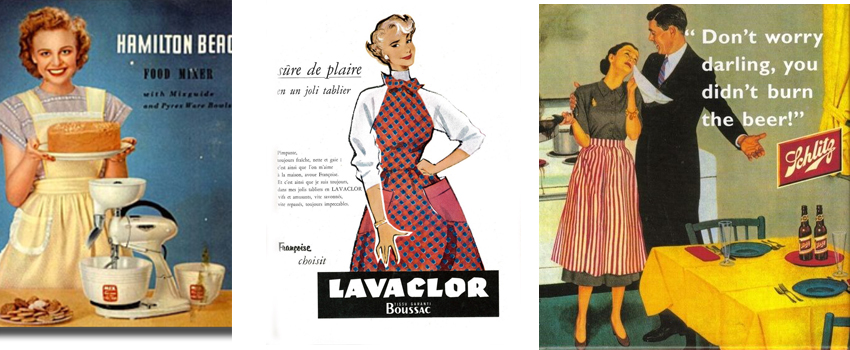 We also remmeber the famous advertising "Moulinex libère la femme" which mean "Moulinex liberate women". This advertisement has become completely obsolete.

Liberation illustrated by comme l'illustre l'expression "rendre son tablier" qui signifie refuser de servir plus longtemps. Le tablier et le stéréotype de la ménagère avait vécu, la société etait passée à autre chose.


Aujourd'hui souffle un vent nouveau, c'est le grand retour du fait-maison, on n'assimile plus cuisinière et ménagère. Aujourd'hui on choisit sa passion de faire avec les mains.
Pour toutes ces activités manuelles, le tablier est un outils indispensable. Pour rester propre en cuisine et à l'atelier, sec au jardin, et toujours avoir ses instruments à disposition.
Pourtant le tablier est encore un objet sans saveur que l'on porte avec réticence si on en porte encore un. Un objet que l'on a vite fait d'enlever et de cacher dans un coin si quelqu'un vient à sonner à la porte ou que les invités arrivent 5 min en avance.
Et bien chez Alaskan MAKER nous pensons que vous pouvez exhiber fièrement votre tablier en toutes circonstances...


Mais attention pas n'importe quel tablier!




Uniquement les tabliers qui ont du caractère et qui mettent en valeur ceux qui les portent.




Des matières brutes et authentiques pour les femmes qui n'ont pas froid aux yeux.

Pour fièrement dire "c'est moi qui l'ai fait"
By Alaskan Maker
Continuez à nous suivre!