Our commitment to the planet
Why is Alaskan Maker involved with Wings of the Ocean?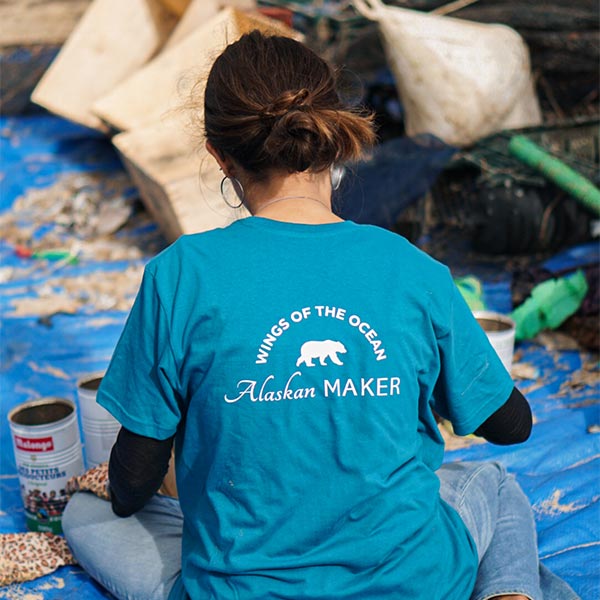 Alaskan Maker X Wings of the Ocean
435 km² of marine areas
13 species of marine mammals
50,000 birds that hibernate or breed in this protected area
4110 hectares of sea grass beds with a rich biodiversity
119 415 local residents
300 oyster farms
80 professional fishing vessels within the basin
They act everywhere in the world
The Kraken
30 people sail on this former fishing trawler to carry out to carry out clean-up operations and also to raise awareness to the local population. In 2021, the sailboat made stops in various islands of the Atlantic Ocean: from Madeira to the deserted and Selvagens Islands, and from the Canaries to the Azores.
The lake of Berre
For 7 months, 89 people volunteered to to carry out 140 clean-up and awareness-raising actions over the year 2021. They collected a total of 15,781 kg of waste. All this for 1 objective: to mobilise in a specific area to area to study the problems caused by litter. waste.
The Arcachon basin
The mission in the Arcachon basin is modelled on that of the the one in the Etang de Berre. For 6 months, from May to October 2022, a clean-up mission will be carried out in the basin. This This action will allow for an assessment of the terrain, recurrent depollution in the basin, the collection of scientific data and collaboration with local collaboration with local stakeholders.
South Mission
After 3 years of pollution clean-up on the Mediterranean coast, it is now Mediterranean coastline, it is now 1 clean-up every two days around the Mediterranean thanks to the action of the the association in collaboration with companies and local local municipalities as well as hundreds of volunteers.
The Scylla
A travelling mission on a new sailing boat: the Scylla. It will take 16 volunteers on board for clean-up actions in the in the islands and coasts of the Atlantic.
The Thau Lagoon
The Thau lagoon is very polluted, particularly by the plastic found on the beaches and banks. on the beaches and banks. A massive will be organised for 7 months.